Connect Up Carver - 5 LCP Additions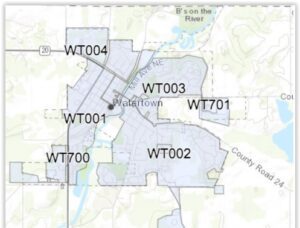 Based on the separate but associated CarverLink Connect Up Carver primarily rural fiber build project, these 5 city limit build areas, located within Chanhassen, Victoria, Watertown and Cologne, are part of an arrangement between CarverLink and Metronet to construct fiber within them.  This arrangement is based on Metronet being the winning bidder of competitively bid Connect Up Carver Project build, which they were.
There is also the requirement separately for each city, that CarverLink help facilitate the execution of CarverLink's City Fiber Agreement with that city.
There are 5 of what Metronet defines as LCP areas in four different cities.  These LCP areas are just geographic areas that fall within the city limits and are areas that per Metronet's normal fiber build cost analysis model, would not be considered financially viable to build fiber into.  This includes LCP CH007 in Chanhassen, CN001 in Cologne, VC008 in Victoria, and WT002 & WT003 in Watertown.
These five LCP areas encompass almost 2,000 urban addresses located within these respective cities.